Silanes
Properties of organosilanes
Organofunctional silanes, with the general formula RnX3-nSi(CH2)mY [where: n = 0-2, m = mainly 1-3; X = Cl, OR ", OCOR"; Y = Cl, NH2, NR"2, SH, CH=CH2, CN, NCO, OCOR", O-glycidyl] belong to the large group of silane adhesion promoters allowing the binding of the organic (polymer) part to inorganic one. They are characterized by two types of reactivity; group X is easily hydrolysed. These compounds readily produce silanol groups capable of bonding to metal, glass or mineral surfaces (e.g., silica) via siloxane bonds. Non-hydrolyzable Y functional groups are selected depending on their reactivity and chemical relationship to monomeric and polymeric organic compounds (Scheme 1).

Scheme 1.
The addition of a small amount of the appropriate organofunctional silane to the filler-polymer system enables a significant increase in adhesion of the materials, organic and bioorganic compounds to mineral surfaces, significantly improving the physico-chemical properties of the filled and reinforced polymer systems. In addition, organofunctional silanes enable binding of metal complexes (catalysis), enzymes (biochemistry) and separation of hydrocarbon mixtures (chromatography) on the mineral surfaces. Organosilanes are compounds of the general formula RnX3-nSi(CH2)mCH3 [n = 0-2, m = 0-16 (mainly 3, 7 and 17), X = Cl, OR", OCOR"] with of inorganic substrates surface hydrophobizing properties and crosslinker properties. Among others, they have applications in cross-linking of silicone rubbers. The long alkyl chain determines their hydrophobicity, while the presence of easily hydrolysable X groups at the silicon atom enables the silane molecule to bond to the surface (e.g., silica) to form a Si-O-Si bond and covering it with a hydrophobic coating made of alkyl groups (Scheme 2).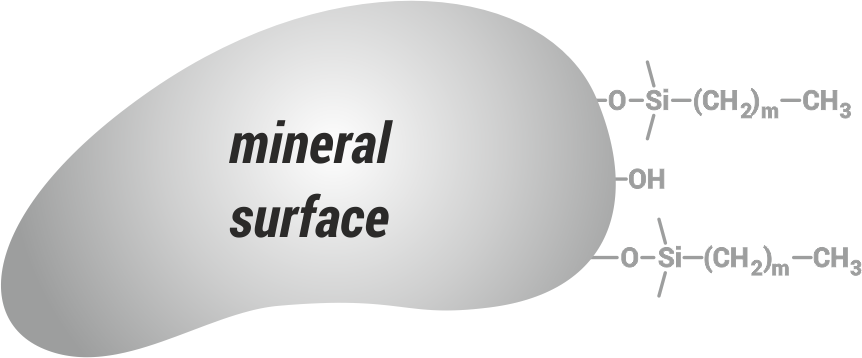 Scheme 2.
The presence of two or more hydrolyzing groups makes it possible to use them in cross-linking of silicone condensation crosslinking rubber, also due to the siloxane bond formed (Scheme 3).

Scheme 3.
Organosilanes are mainly used in the protection of buildings against the effects of moisture and atmospheric pollution as well as polymerization co-catalysts for the second generation of catalytic systems.
Ureidofunkcyjne silany – właściwości i charakterystyka

Scheme 4.
Ureidofunctional silanes (Scheme 4) are colorless or slightly yellow transparent liquids with high density and characteristic odor. Their density depends on the type of ureido derivative. Due to their high density, they are sold as 50% solutions in methanol. These compounds dissolve very well in alcohols, acetone and ethyl ether; they are insoluble in carbon tetrachloride. They react well with water, the reaction takes place both between the alkoxy groups located at the silicon atom and with the ureido groups as well. The main representative of this group of compounds is 3-ureidopropyltriethoxysilane. It is produced by the majority of global silane companies. It is assumed that content of ureidosilane used for the preparation of the solution is at least 95%, and the methanol in which it is dissolved is anhydrous.
Application of 3-chloropropyltri(chloro, alkoxy)silanes

Scheme 5.
These compounds are primarily used in for synthesis of new derivative compounds. They are characterized by very high reactivity towards amines, alcohols, chromium salts and silica surface. 3-chloropropyltrimethoxysilane is much more frequently used compared to 3-chloropropyltrichlorosilane in many fields of technology. It is manufactured on a large scale by many chemical companies. It's main applications are:
as an adhesion promoter to glass-reinforced thermoplastics, especially when using PVC

in silica filler systems with various rubbers (styrene-butadiene, epichlorohydrin, nitrile, EPDM)

as a coupling agent in glass-fiber reinforced resins or in aramid reinforced resins

as a modifier of mineral fillers of rubber and elastomers

as a surface coating agent of electrodes, semiconductors, magnetic tapes, inorganic surfaces, i.e. glass, steel, aluminum by increasing adhesion (e.g. of paints of varnishes)

as a functional group binder to an inorganic substrate for silica surface functionalization in analytical and biotechnological purposes or for the synthesis of catalysts (heterogenised cobalt, copper and other metal supported complexes)

as a reagent for many chemical syntheses.
3-chloropropyltriethoxysilane is less attractive in terms of utility. It is used to modify glass fibers in polymers and to bond silica with polyalkenyl plastics. It is also used to obtain many derivatives of organofunctional silanes.